Renovation of a student residence

Restricted competition - 1st Prize

In cooperation with Rolf Schaffner Architekt
Landscape: Cadrage Landschaftsarchitekten
Civil engineer: Federer & Partner Bauingenieure
Construction management: Wölfli Bauplanung
Electrical Engineer: Gutknecht Elektroplanung
HVAC: Frei+Partner Haustechnik
Building physics: Bauphysik Schweiz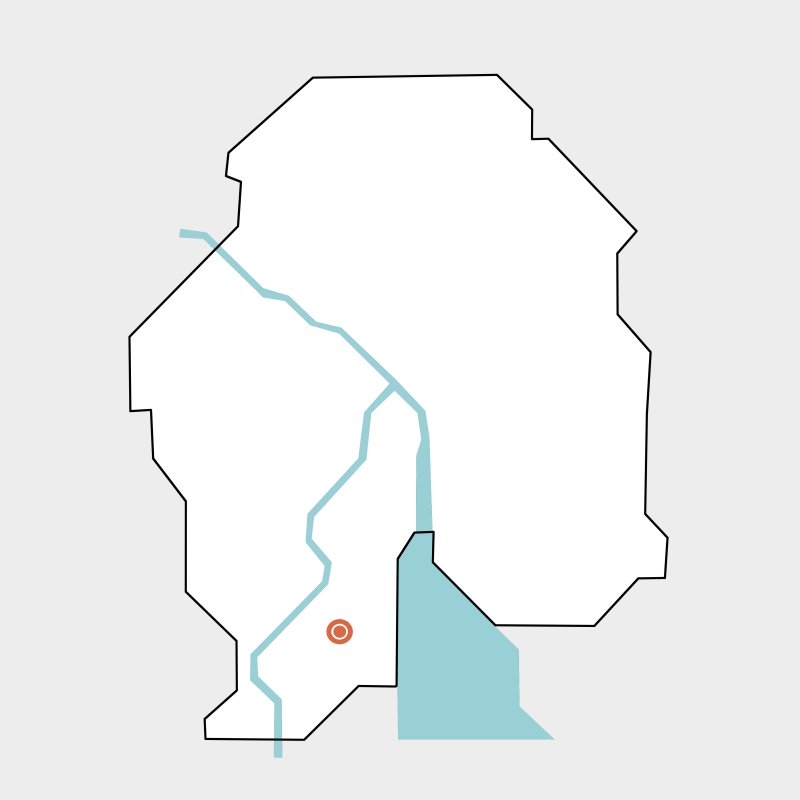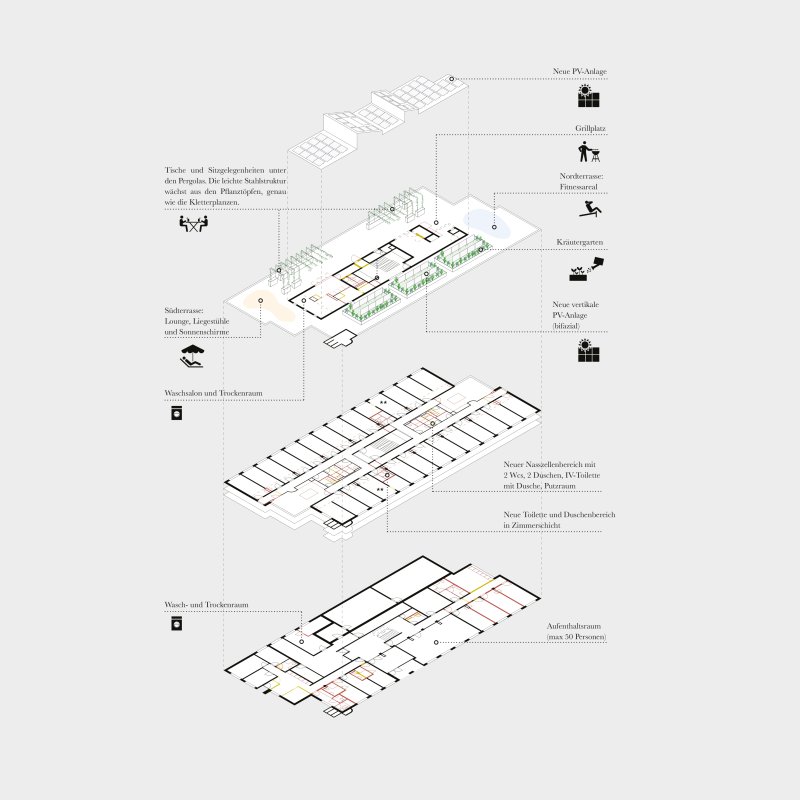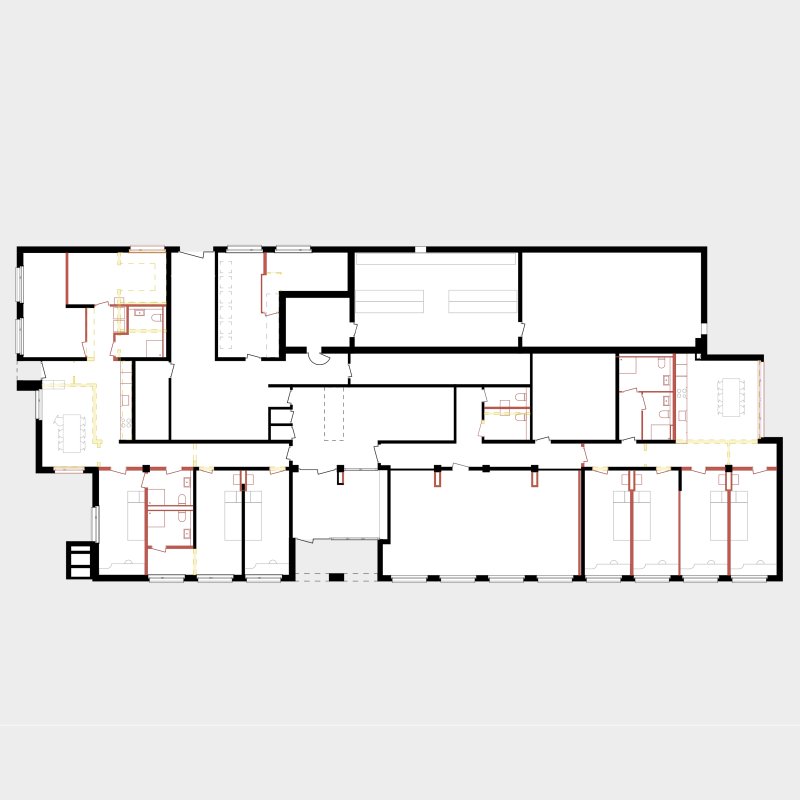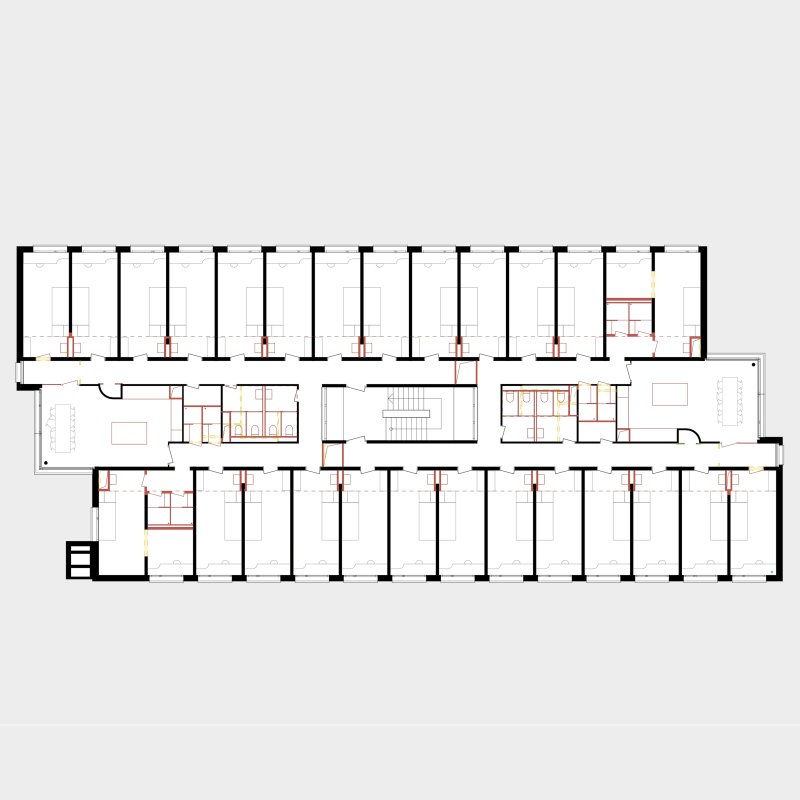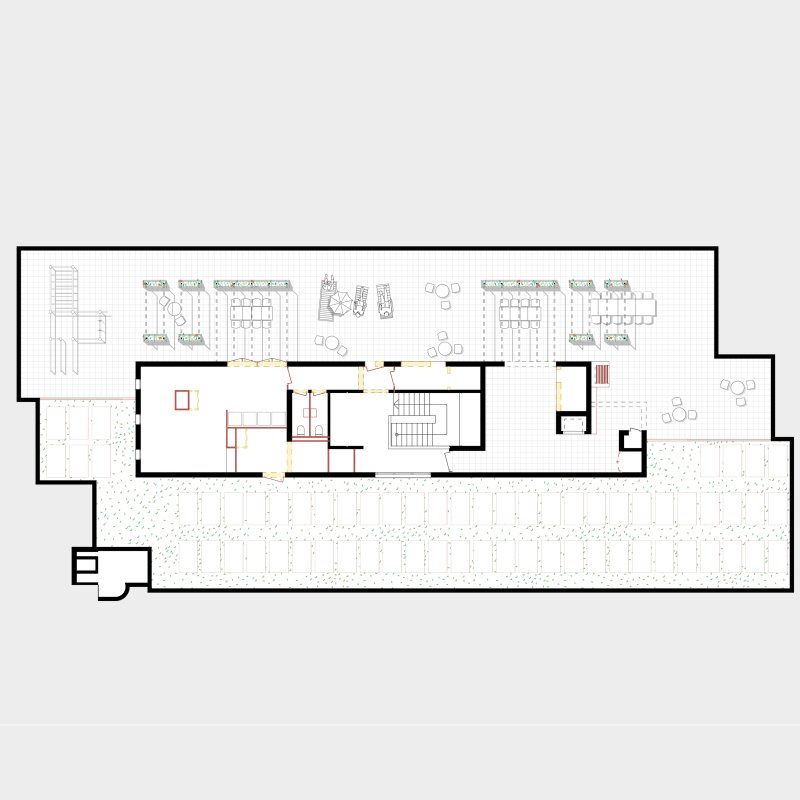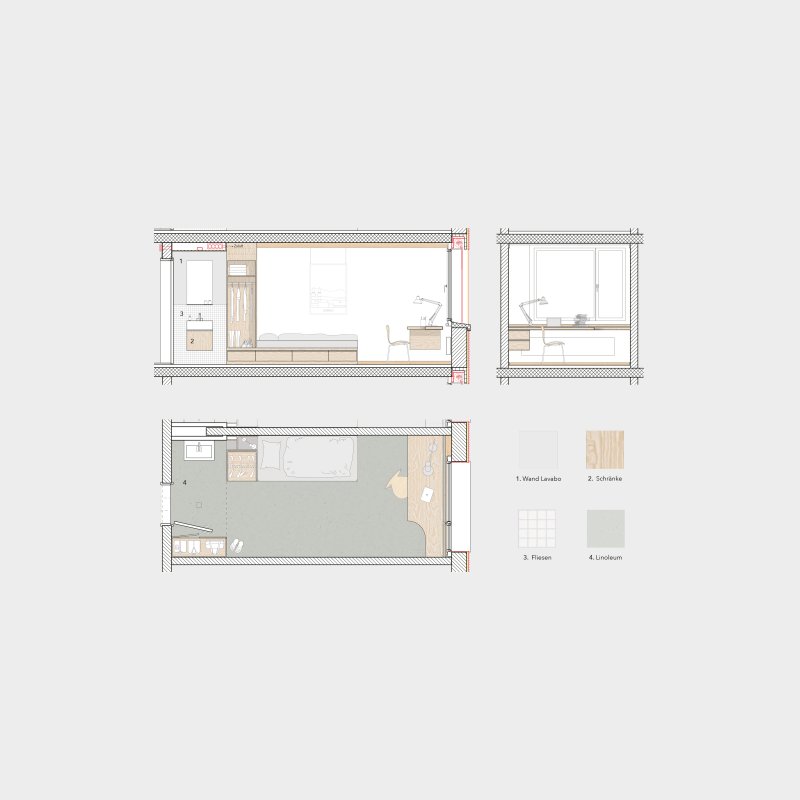 The project integrates the new operational concept and the renovation measures into the logic of Ernst Gisel's building. Thus, the division - core, corridor and room layer - and the hierarchy of the floor plan are maintained. The toilet blocks in the core will be reorganised and completely renewed, while additional bathrooms will be located in the bedrooms layer. These are located directly next to the new ventilation shunts and occupy only half the room depth, so that the rooms continue to appear as a plastered perforated façade. Furthermore, the central symmetry of the floor plan remains legible. The two residential units on the ground floor are organised with the same approach; bedrooms are oriented west and east, while the communal kitchens are placed on the north and south façades. The top floor, designed as a recreation and meeting zone, will be upgraded: The locker room becomes a collective laundry, green pergolas invite people to linger, raised beds with herbs and an integrated PV system combine ecology and technology. The sun lounge to the south and the fitness area to the north complete the concept. Thoughtful zoning allows for a variety of communal activities.
With the renovation of the building, the surfaces of the student rooms will be refreshed and a fixed furniture will be provided for every bedroom so that students can move in with only their suitcases. Wooden built-in cupboards with increased space will newly allow the residents to store all their belongings in their own room, including their luggage, thanks to different cupboard depths and drawers. In the anteroom, a new suspended wooden slatted ceiling will allow the integration of the new ventilation ducts for the student rooms. The new colour and material concept makes reference to the original interior design planned by Gisel.
The building systems will be completely replaced so that the building can be upgraded for a new life cycle of 35 years. The existing gas heating system will be replaced by a fossil-free heating source, the new ventilation system with heat recovery will enable the preheating of hot water with the recovered heat, a PV system on the roof and the installation of LED light fixtures will optimise the energy consumption of the building. In order to further decrease energy demand, different options for insulating the exterior walls will be explored during the planning phase. The close cooperation with the preservation of historical monuments should make it possible to retain the appearance of the building while carrying out the energetic renovation.